Advanced search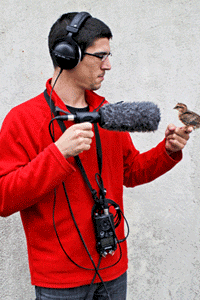 Joseph SARDIN
& Piou PIOU
8 results for "Arbres" - Most at least downloaded

-
Wind in the trees
The microphones are directed to the sky, to the trees in the forest of Rambouiller (France). Duration: 03:38.

-
Wind in a tree
Wind noise in a tree. Some birdsong. Duration: 01:55.

-
Forest
Birds singing, drive away, fly. Duration: 00:54.

-
Chain saw
A person is to prune the chainsaw. The sound is taken from about 50 meters, with a shotgun microphone. Duration: 00:17.

-
Wind and tree squeaks
Wind in a very big tree. Grinding of one of its branches. Duration: 02:32.

-
Saw wood
A wood saw cutting a piece of wood. Duration: 00:12.

-
Ax on wood
Ax on a large tree trunk. Duration: 00:19.

-
Pigeons fighting
Two pigeons fighting in a tree. Duration: 00:18.
Still have not found what you are looking for? Order!



Cut out following the dots