Advanced search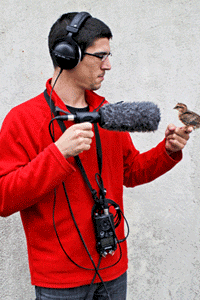 Joseph SARDIN
& Piou PIOU
8 results for "Foret" - Most at least downloaded

-
Forest: On the edge
Forest atmosphere recorded near woods. Birds, wind, noise, etc. Duration: 06:00.

-
Wind in the trees
The microphones are directed to the sky, to the trees in the forest of Rambouiller (France). Duration: 03:38.

-
Forest
Birds singing, drive away, fly. Duration: 00:54.

-
Feet in leaves
Humans feets in dry leaves. Duration: 01:03.

-
Forest at night after rain
Soundscape. Night in the forest after the rain. Highway noise away. Duration: 00:29.

-
Urban undergrowth
Urban undergrowth. Rumor of a road. Birds, etc. Duration: 01:17.

-
Forests of Gironde, France
Insects in the dune forests. Duration: 00:40.

-
Rambouillet forest
Atmosphere of the forest of Rambouillet to 7 hours. Bird songs, drive away, passing plane, branches creaking, wind in the leaves. Duration: 02:32.


Cut out following the dots