SNCF Jingle 2
The present jingle at the station, we hear in the stations before the ads.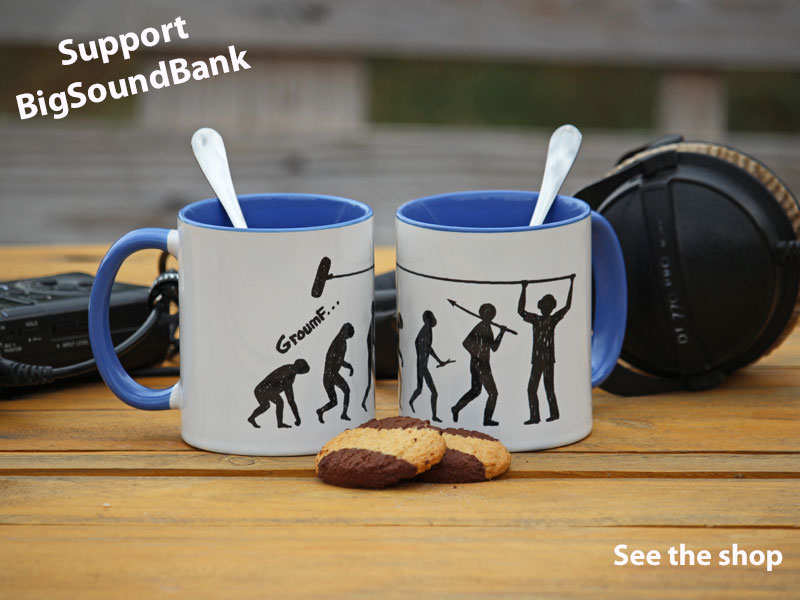 Duration: 00:03
UCS Category: Archived / Trademarked (TMARK) ⊕The UCS, for "Universal Category System", is a public domain initiative by Tim Nielsen, Justin Drury and Kai Paquin, among others. This is a list of fixed and consistent categories for classifying sound effects. It provides consistency in a filename structure to make naming and categorizing easier for anyone who maintains their own personal or professional library. This sound library meets the UCS 8.1 categorization. Click to display the full UCS list.
Type: Alone sound
Channels: Mono ⊕- Mono : Is single-channel. Typically there is only one microphone, one loudspeaker.
- Stereo : Is a method of sound reproduction that creates an illusion of directionality and audible perspective.
Conditions: Studio ⊕A "studio" sound has been recorded in a reverb-free place.

An "outdoor" sound contains disruptive elements. The sound is not totally pure. There is sometimes a little wind, some rumors, etc.

A "indoor" sound usually contains a strong reverb. It can not, for example, be used to sound an image taken outdoors.
Realism: Real ⊕Un son "Real" à été enregistré en condition réel. Par exemple : Un brossage de dent avec dentifrice.

Un son "Idealized" à été enregistré en condition réel mais en ne gardant cherchant à coller au plus près de l'idée qu'on se fait de ce son. Par exemple : Un brossage de dent sans dentifrice.

Un "Foley" à été enregistré en studio, avec des astuces de bruiteurs. Par exemple : Un brossage de dent imité avec une brosse à ongle.
Sampling Rate: 48,000 Hz ⊕Search : Defines the number of samples per seconds taken from a continuous signal to make a discrete signal. The unit for sampling rate is hertz.

- 44,100 Hz : CD Audio quality.
- 48,000 Hz : The standard used by professional digital video equipment such as tape recorders, video servers, vision mixers and so on.
- 96,000 Hz : DVD-Audio, some LPCM DVD tracks, BD-ROM (Blu-ray Disc) audio tracks, HD DVD (High-Definition DVD) audio tracks.
Bit depth: 16 Bits ⊕More : In digital audio, bit depth describes the number of bits of information recorded for each sample.

- 16 bits : CD quality audio. A standard used by media professionals.
- 24 bits : DVD-Audio, which can support up to 24-bit audio.

Sound n°: 564

Other interesting files
Notations





- Rated 6.0/10 (average) - 1,431 Opinions
Rate, Comment!
They also downloaded
Comments







Are u high?






Merci!!






Dfgqserhdetyjuyjuyèuj






Nul

Cool






Omg






Super ;)







Trop trop trop cool g trol un pote au tel


Très ressamblant, j'aurait préféré un si dièse pour la dernière note mais rien n'est parfait!


C'est tiré de la chanson de david gilmour (pink floyd) rattle that lock rien nest inventé

Ou alors c'est l'inverse ? :D - Joseph SARDIN







Peut trouver mieux







Trop bien


J'a dore







Je lé utilizé pour le n°45 de youpi les amis à 5:21







Merci !


Ecoutez rattle that lock de david gilmour !!







Trop bien j'adore ce son







Super merci







Bravo maurice !


Bn son sa bel anpil







Do, sol, sol #, mi b







J adore







Comment on fait pour télécharger


Trop bien meilleure son







Est-ce que vous avez le sonnerie dans le tgv, c'est la même, mais qui sonne différemment ?

Non, désolé... - Joseph SARDIN







Au bureau, ca fait fureur avant de partir en congés







Parfait







C'est trop marrant ????







Nickel







Parfait !!







Cest trop bien







Mdrrrrrrrrrrrrr







C'est amusant.







Sympathique les khey







Trop cool







Excellent. au fait, le nouveau jingle musical d'engie a une analogie avec celui de la sncf, non ?

En effet, il y a cette idée de plénitude, de légèreté... - Joseph SARDIN







Bon son !







Saucisse

?? Ok... - Joseph SARDIN







J'apprécie beaucoup ce son qui me premet de m'endormir serainement et rapidement dans la lueur d'une journée joyeuse je l'écoute aussi dans les transports en communs et celui ci m'a permit de trouver mon premier copain qui lui écouter un son de coq bizz à tous. j'espère que vous écouterez ceci en pensant à moi sylviane qui vous aime et qui vous chérit

Oo - Joseph SARDIN







Mesdames et messieurs, notre train en direction de petaouchnok a été retardé suite à des grèves.
Keywords
About BigSoundBank.com
BigSoundBank.com is a royalty free sounds library, free of charge and public domain sounds. The best quality soundbank for commercial and personal projects. Sounds effects, ambiences, soundscapes and atmospheres in MP3, WAV, BWF, AIFF, OGG, FLAC, AAC and M4A formats. Listen and download ! For audiovisual, cinema, theater, video games, brickfilms, audio sagas, radio, development, powerpoint and more media productions.
– "You're making a great amount of awesome sounds, thanks a lot!" - other feedbacks >
Joseph SARDIN - Founder of BigSoundBank.com and LaSonotheque.org - Contact