Advanced search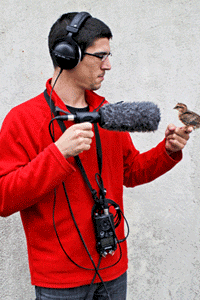 Joseph SARDIN
& Piou PIOU
6 results for "Matin" - Most at least downloaded

-
Campaign morning
The campaign in the morning. Wind, birds.. Duration: 02:48.

-
Crowing 4
Crowing (20 times). Duration: 01:11.

-
Birds waking 1
Awakening of the birds in the morning of 1 March (winter) at 7:30 in the country (France, Dep. 28). Pigeons, doves, sparrows, chickens, etc. Duration: 02:54.

-
Electronic alarm (buzzer) 3
Electronic alarm signal (x10). Duration: 00:06.

-
Alarm semi mechanical
Alarm signal electronics, mechanical mechanism. 3 level ringing, noise of the second hand before and after the alarm. Duration: 00:47.

-
Rambouillet forest
Atmosphere of the forest of Rambouillet to 7 hours. Bird songs, drive away, passing plane, branches creaking, wind in the leaves. Duration: 02:32.
Choose one or two simple words, in english, and avoid onomatopoeia and slang


Cut out following the dots