How To Randomize Velocity in FL studio
If you are on this page, you probably know that FL Studio is one of the most advanced Digital Audio Workstation or DAW, and randomizing velocity in FL studio is just one of its feats.
This article will discuss randomizing velocity in FL Studio in just a few easy steps. But first, you would want to know how randomizing helps music producers.
How Does Randomizing Velocity in FL Studio Help?
We have all heard great musicians play different instruments in live concerts and we have felt their magic. But, when you use a Musical Instrument Digital Interface or MIDI to play any musical instrument, it doesn't truly sound that great, even if you play the same thing the musician did on the stage.
This happens because when a musician plays an instrument, they don't play it at a very precise speed or velocity, and even the volume of each tone varies a little. This is what makes the music sound more human and realistic.
Now, when we hear an instrument through a MIDI, each tone is played in the same manner every time because, at the end of the day, it is a machine. This takes away the human nature of the sound we discussed.
Now, we also know how MIDI make life easier for music producers. So we can't simply switch to conventional instruments to avoid this issue. This is where learning how to randomize velocity in FL Studio comes into play.
How to Randomize Velocity in FL Studio
To overcome the problem we mentioned earlier, you can either go to each note, alter it according to your preference, and make your music more realistic instead of a lifeless or digital-like sound. But if you have a long track, it will take hours before you reach the end of your track.
The more sensible way of doing it is by learning how to randomize velocity in FL studio. FL. FL Studio has a feature that allows users to randomize and add variations to each note produced by any MIDI and hence saving you tons of time and making your music feel better. Follow the steps mentioned below to know how to randomize velocity in FL studio easily.
Step 1: Selecting the pattern
The first and foremost thing you will have to do is select the pattern containing the MIDI data whose velocity you want to randomize. Then open the piano roll by either pressing the F7 button on your keyboard or by clicking the piano roll button on the taskbar.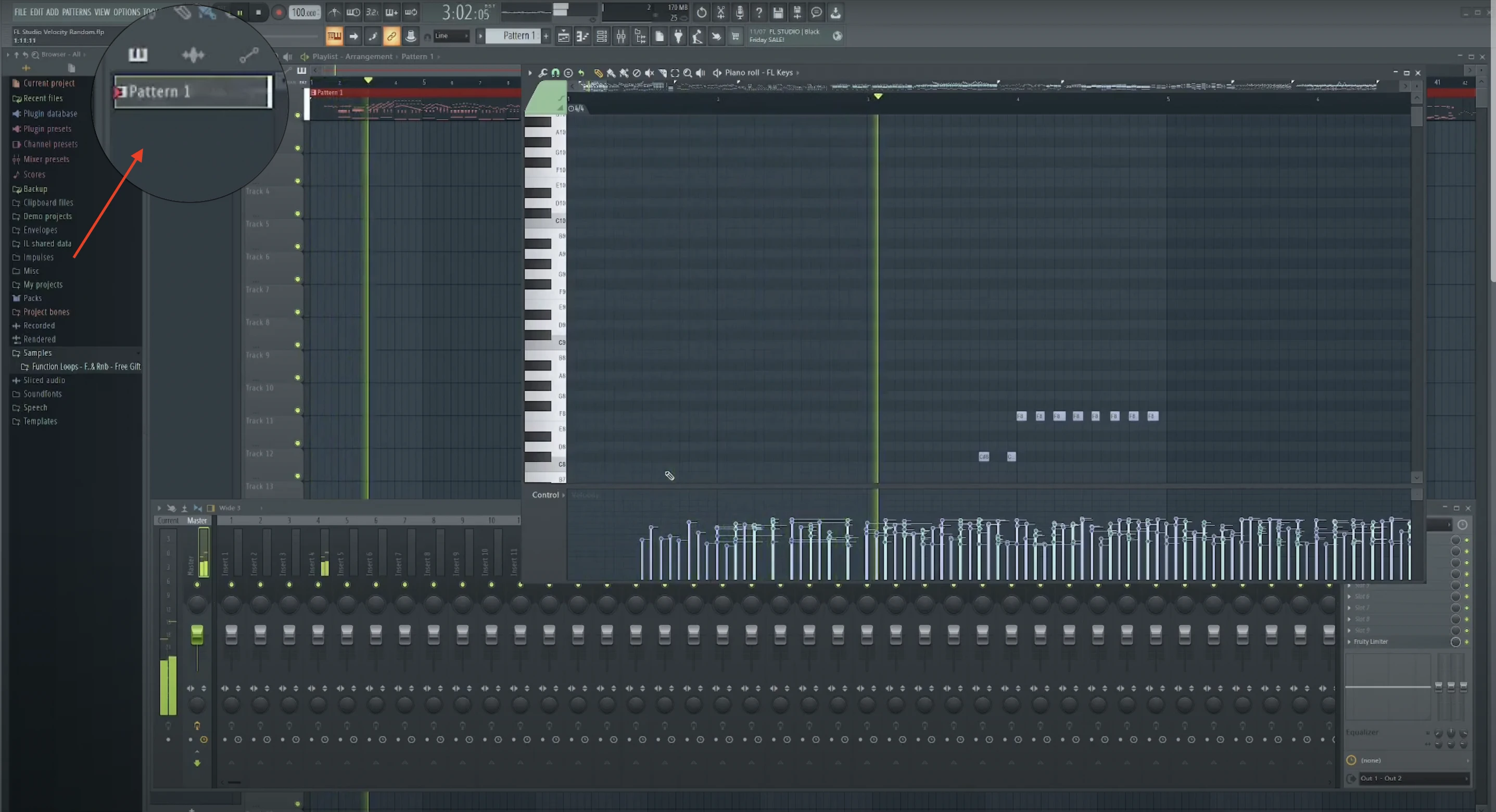 Step 2: Opening the randomizer
Now that you have selected the notes you want to randomize, you can open the randomizer by either pressing the "Alt+R" shortcut or by clicking on the wrench icon on the upper left corner and then clicking on randomize.
Step 3: Randomizing Velocity
This blog focuses only on how to randomize velocity in FL studio, so we will need you to uncheck the "Pattern" button on the top of the randomizer dialogue box which is turned on by default.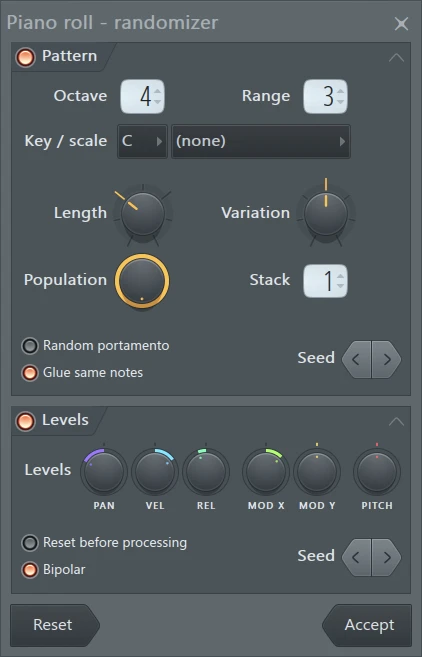 If you see, under the "Levels" sections in the randomizer option you will see multiple options and knobs to use. PAN- Can be used in case of panning the notes. PITCH- Can be used in case you want to change the pitch of the notes. But for now, we will only use the knob "VEL". Turn the knob to the right or left to make the preferred changes in your tones.
The SEED option in the randomizer option can change the randomizer algorithm's seed state.
The BIPOLAR option is used if you want to be bipolar unipolar in randomizing the notes i.e. if you only want to increase or decrease the notes or you want it to be a mix of both.
Hit the "Accept" button in the dialogue box to save the settings. Voila! You have successfully learned how to randomize velocity in FL Studio!
Conclusion
Randomizer is a great tool if you are a new music producer who uses a lot of MIDI stuff to create music in a personal studio! This neat tool will help you make your music sound more human and realistic and less digital.
If you follow the steps mentioned above carefully, you will take no time to learn how to randomize velocity in FL studio to create great music!
Frequently Asked Questions
What else can the randomizer be used for?
The "pattern" button we asked you to switch off in the randomizer helps set up the options used when generating the random notes which can be used to place notes. Meanwhile, you can also choose to define parameters for note placement. It is a wonderful trick is you are using a MIDI. You can also vary the note length and enable random note glides in the randomizer.
On what instruments should I use randomization?
Randomizer is mainly used with real-world instruments that sound great only with a human touch, such as pianos, guitars and drums.
Does randomization always work well and improve music?
In most cases, randomization does the trick and producers end up with a better version of the same track. But in rare cases, randomization does not get the job done even if you know how to randomize velocity in FL studio. We all know music has always been a trial-and-error thing.
♥ - Joseph SARDIN - Founder of BigSoundBank.com - About - Contact